Reminder!!! Registration today is extended until 7:00 PM! Please come and get your students registered for the upcoming school year! If you have already taken care of this, we THANK YOU!

Attention Junior High families: Tomorrow, Wednesday August 11th is the last day to register for the 2021-2022 school year. To register you must come to the High School between 8:30 AM and 6:00 PM, this is mandatory for all students, if you have not done so already. For any new students, or incoming 6th graders, to the Junior High we will be hosting a "Meet the Teacher" from 1 PM to 3:30 PM on Thursday, August the 12th, if you would like to drop by.

CORRECTION!!! Reminder!!! Don't forget in person registration, tomorrow, Tuesday, August 10th from 8:30 AM until 1:00 PM and Wednesday, August 11th from 8:30 AM until 6:00 PM at the High School Campus. This is mandatory registration for all PK through 12th Grade Students. Thank you again and sorry for any confusion this may have caused.

Parents of Lockney ISD Students, For those of you that did give us your email address towards the end of school or in the last week or so we appreciate it. However, that was to help us prepare for the part of registration that is online. We must have a current/correct email address in our software in order for this process to work. We are moving our registration packets to mostly online in hopes that it will be easier for you, our parents. We are asking at least one PK-12 grade parent to come to the high school campus before school starts to complete registration for each of your students. Before you leave that day all forms will be completed and no packet will be sent home for you to fill out on the first day of school. Please be patient with our staff as this is our first time doing this. Thank you! Please remember that registration is at the High School on Monday, August 9 from 12:00 pm until 8:00 pm, Tuesday, August 10 from 8:30 am until 1:00 pm and Wednesday, August 11 from 8:30 am until 6:00 pm.

Parents of Lockney ISD Students, We will begin online registration on Monday, August 9! This is taking place at the high school campus for ALL students. New and returning students must get registration done on campus and before the first day of school. If you are NEW to the district, please bring your student's Birth Certificate, SS Card, Immunization Record, proof of residency and any previous school information you may have. Please know that new student enrollment will take longer than returning students. We are offering multiple times. Monday, August 9 from 12:00 pm until 8:00 pm, Tuesday, August 10 from 8:30 am until 1:00 pm and Wednesday, August 11 from 8:30 am until 6:00 pm. If you are unable to make any of these times, you must schedule an appointment with your student's campus secretary in order to complete online registration before school begins on August 17th! Thank you!

Dear Parents of Lockney ISD Students, We came to you in the spring to explain that Lockney ISD is moving registration to an online format this school year (2021-2022). We need a current/accurate email address that you use or will use in Ascender Parent Portal. The email address needs to be the same for all of your students. For those of you who completed this in the spring, we thank you, and you do NOT need to complete it again. For those who have not completed it we ask you to please complete it AS SOON AS POSSIBLE. We are trying to catch anyone that was missed so that registration will be as simple as possible when school starts up this year. So please feel free to share! We are looking forward to a great 2021-2022 school year! Thank you!
https://forms.gle/LheAAjL9GVhnqXM8A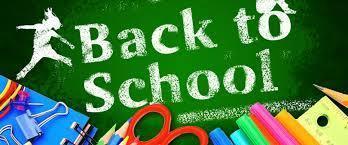 *Please fill out the survey-
https://forms.gle/noDRCXbnA1EXLPQH7
* Lockney ISD will apply for a grant from the Texas Education Agency based on funds they received from the American Rescue Plan (ARP) through the Elementary and Secondary School Emergency Relief Fund (ESSER III). The total amount of funding that Lockney ISD is eligible for is $1,409,295. The Texas Education Agency (TEA) will release 2/3 of these funds after we complete the required application and submit a "Safe Return to In-Person Instruction and Continuity of Services Plan". The additional 1/3 of the funds are scheduled for release at a later date once the TEA receives approval from the federal granting agency. Our plan must include stakeholder input on how we expect to safely return students to school and provide instructional continuity, and a plan on how these funds should be utilized. Lockney ISD is seeking input from stakeholders across the district to include LISD staff, parents, community and students as we develop our plan. Your feedback and input is critical and will help inform our plan. Responses to this survey are due by 5:00pm on Tuesday June 22nd and will be considered as we develop our plan. *Please fill out the survey-
https://forms.gle/noDRCXbnA1EXLPQH7
*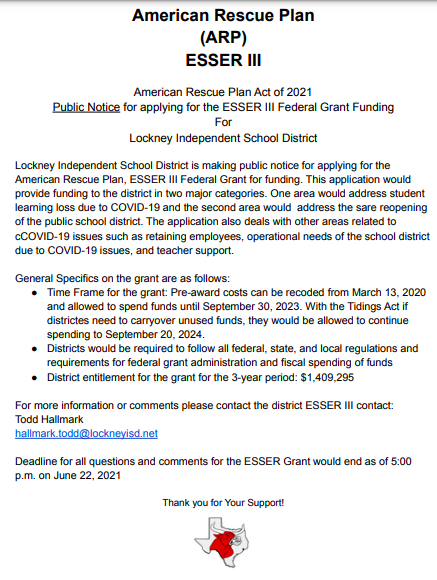 Parents and Families: The application for P-EBT benefits is now open until Aug. 13. P-EBT provides food benefits to families with eligible children who temporarily lost access to free or reduced-price meals during the 2020–21 school year due to the COVID-19 pandemic. Padres y familias: Se pueden solicitar beneficios de P-EBT desde ahora hasta el 13 de agosto. El programa P-EBT proporciona beneficios de alimentos a las familias con hijos que reúnen los requisitos y que temporalmente dejaron de recibir comidas gratuitas o a precio reducido durante el año escolar 2020-21 debido a la pandemia de COVID-19. For more information/Para más información: hhs.texas.gov/pebt 833-442-1255


Lockney ISD is exploring the option of hosting a clinic with free Phizer Covid vaccine for 12 - 18 yr olds. The purpose of this survey is to find out who would be interested in their child(ren) getting one. Please follow the link to answer the survey:
https://forms.gle/Gd1R7y9utozDZKGq5
*ATTENTION PARENTS OF INCOMING 7TH GRADERS* All incoming 7th graders must have a Tetanus (Tdap) booster and their first dose of Meningococcal (MCV4) before school begins in the fall. It is against state law for students to start school without their needed vaccines. Some students may have already had these vaccines, however, the school does not have record of this unless you have sent us an UPDATED copy. Please do not wait until the last minute to get this done as supplies will run low with a high demand for these vaccines for our students and those in surrounding local communities. PLEASE provide a copy of your child's updated shot record verifying these vaccines to the elementary or JH office ASAP. Thank you!


Parents/Guardians, There are two things we would like to ask of you: The first is we would like some feedback from you on next years instructional calendar (please read more information on the page)
https://www.lockneyisd.net/page/instructional-calendar-survey
The second, is we need for you to please fill out our online registration for each of your students who intend to attend LISD next fall (2021-2022 school year). Online registration will close April 23rd.
https://www.lockneyisd.net/page/online-registration-for-2021-2022
Both of these pages are located on our website under the parents tab as well. Thank you and have a great week!

TESTING ISSUES: LISD, like other districts in the state, lost connectivity with the host of the STAAR Test today. This was not a local issue. This was a failure in the platform that supports testing across the state. We hate this for our students, teachers, and parents. Our students who were able to test on a tried and true "paper test" were able to complete their exams after a delayed start. Our students who were "electronic test" only or who had already begun an electronic test when we lost connectivity were not able to complete their exams today. As of now, ETS has not solved the connectivity issues. Should they do so before tomorrow, our students who were scheduled for electronic tests will resume their testing. If ETS does not resolve their issues, we will await direction from TEA on resuming the exams. Again, we are sorry that this is happening. We will do our best when we are able to resume testing. Test Summary for Tuesday, April 6th Most 4th Graders completed a paper test. Several will take the electronic version if it becomes available tomorrow. No 7th Grader was able to complete the test. All will resume electronically if it becomes available tomorrow. If directed by TEA, the 7th Graders will move to a paper test. Most English I exams were completed on paper. Several will take the electronic version if it becomes available tomorrow.
Regional Qualifiers for Track -Congratulations to theses kids for all thier hard work and advancing to the next level.
Damion Gonzales took 4th place in boys state powerlifting meet in Abilene tx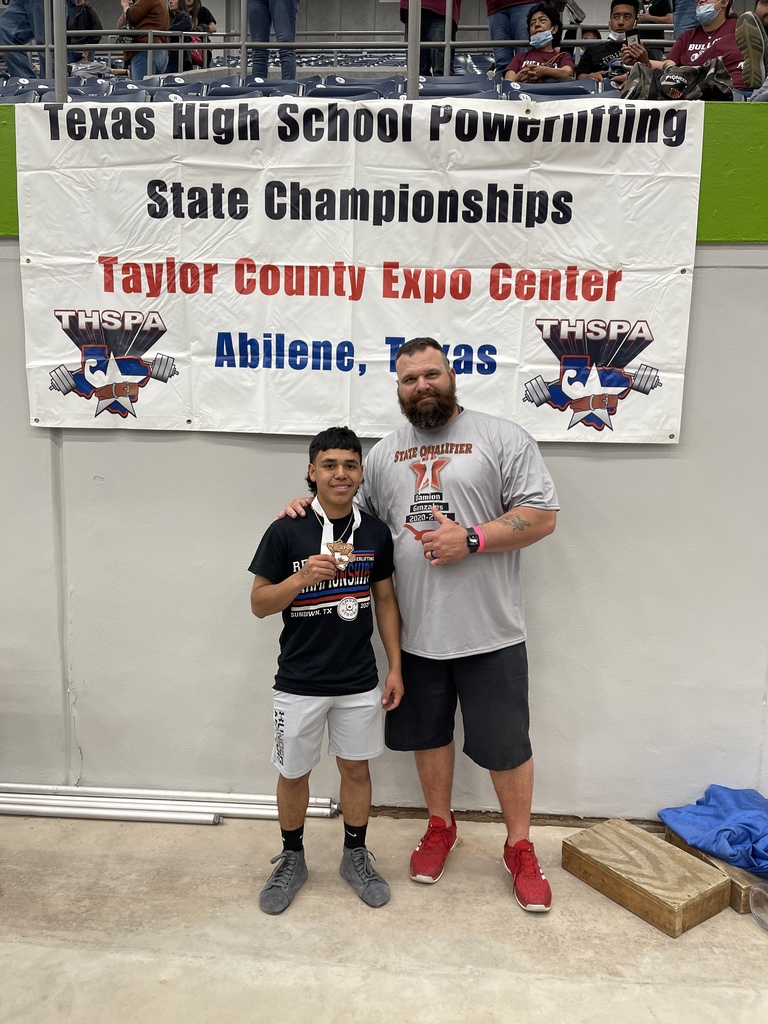 Friday 3/26/2021 between 9:15 AM and 9:20 AM there will be a send off for Damion Gonzales who will be traveling to Abilene, TX to compete at the State Powerlifting Meet. We will Start at the band hall and work our way around to the Junior High and onto the front of the High School and we will finish off at the Elementary. Please if you can come out and show your support. Thank you!
Congratulations to lockney boys powerlifting Damion Gonzales is going to state with a 2nd place finish miguel Lara finished 3rd and Caleb Pritchard finished 6th and Caden Pritchard finished 7th.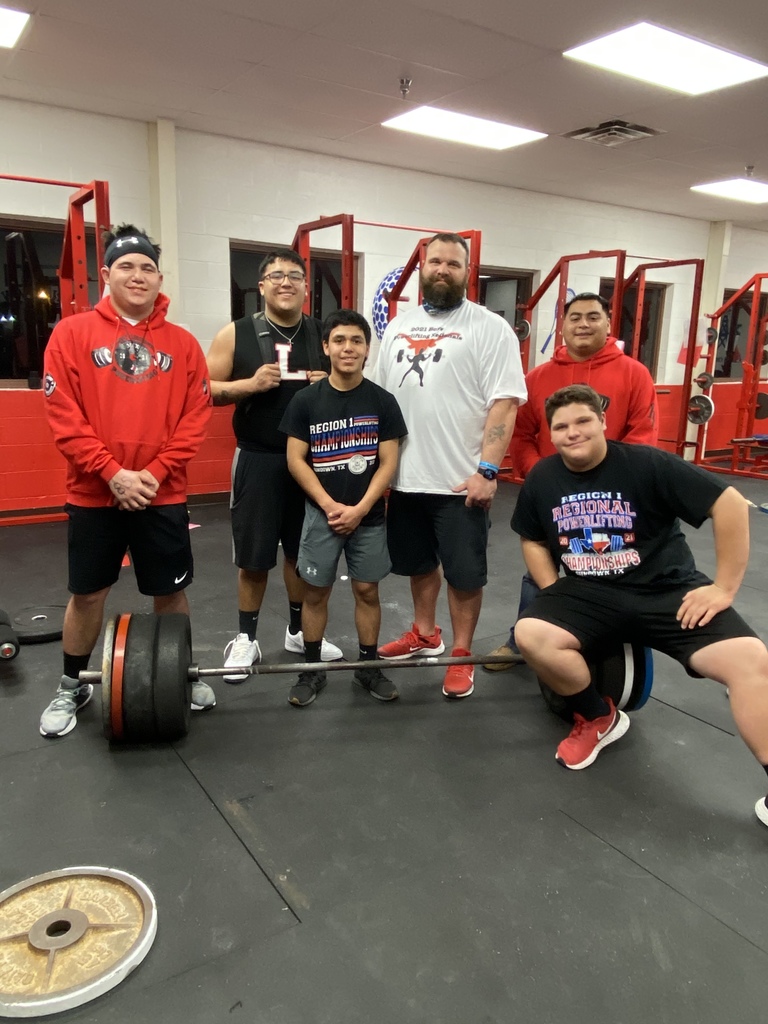 COVID Protocol Survey for Parents, Students, and Staff LISD will hold an emergency board meeting at 7:00 pm on Thursday, March 11th to address our COVID protocols regarding quarantine and masks. We have launched a survey to receive input from our parents, students, and staff. We want to hear from each of these groups as we make decisions that will have an impact on us all. You may use the following link or go through the LISD website to access the survey. (The link is on the top banner of our website.) The survey link will close at 3:00 pm on Thursday, March 11th.
https://www.lockneyisd.net/page/covid-protocol-survey
Congratulations to Lockney Girls basketball Player Ryann Castillo who was named 1st Team Academic All-State THSCA.
Girls Softball Game March 6th VS Sundown in Lockney has been moved to Sundown @ 6:30pm Start Time, March 6th.